Morocco's New Migrant Class
with Isabella Alexander
hosted by Graham Cornwell
Download the podcast
Feed | iTunes | Hipcast | Soundcloud
"Hrig," the Moroccan Arabic term for "illegal" immigration, translates to "burning." In the latest episode of Tajine, Isabella Alexander discusses the dramatic rise in sub-Saharan migrants attempting to enter the E.U. from Morocco - now the primary entry point for all African migrations north. As Spanish officials start exploring their border controls further south in response, hundreds of thousands of sub-Saharans now find themselves trapped in Morocco. Their act of "burning" signifies the literal burning of their identification papers to avoid repatriation when arrested by European authorities, but also the symbolic burning of their pasts in hopes of a better future abroad. They wait in sprawling slums outside of Moroccan cities, scraping together enough money to attempt the journey into Spain by boat or by land once again. But, what happens when their position in this liminal space—Morocco—becomes a permanent one?
Anthropological studies of migration have long been situated in migrants' sending or receiving communities, but saturated labor markets in traditional immigrant-receiving countries like those across the E.U. have led to less permeable borders and migration routes are changing. In this podcast, Dr. Alexander urges us to question what "the burning" means for the rapidly expanding population of sub-Saharan migrants in Morocco. We discuss Morocco's response to the crisis, its current relations with the E.U., and what daily life looks like for these men, women, and children trapped in between two worlds. Finally, we draw some parallels between Morocco and the unfolding migration and refugee crises throughout the Mediterranean.
STREAMING AUDIO
via Soundcloud
(US / preferred)
via Hipcast
(Turkey / Türkiye)
PARTICIPANT BIOS
| | |
| --- | --- |
| | Isabella Alexander is an anthropologist and filmmaker. She earned her Ph.D. from Emory University in 2016 with a dissertation entitled "Burning at the E.U. Border: Liminality, Belonging, and Morocco's New Migrant Class." She also holds a B.A. from New York University, a M.F.A. from Speos Institut de la Photographie, and a M.A. from the University of Chicago. She is a Visiting Assistant Professor in the Dept. of Anthropology at Emory and is currently working on a documentary film entitled "The Burning: An Untold Story from the Other Side of the Migrant Crisis." |
| | Graham H. Cornwell is a PhD Candidate in History at Georgetown University. His dissertation is entitled "Sweetening the Pot: A History of Tea and Taste in Morocco, 1856-1960." |
CREDITS
Episode No. 242 (tajine No. 11)
Release Date: 27 April 2016
Recording Location: Princeton University
Editing and production by Chris Gratien
Sound excerpts:
Baglamamin Dugumu - Necmiye Ararat and Muzaffer
;
Harmandali - Recep Efendi, Cemal Efendi
;
Turnalar Turnalar - Darulelhan Heyeti
Special thanks to
Kara Güneş
for allowing us to use the composition
"Istanbul"
in the outro music
Images and bibliography courtesy of Isabella Alexander
IMAGES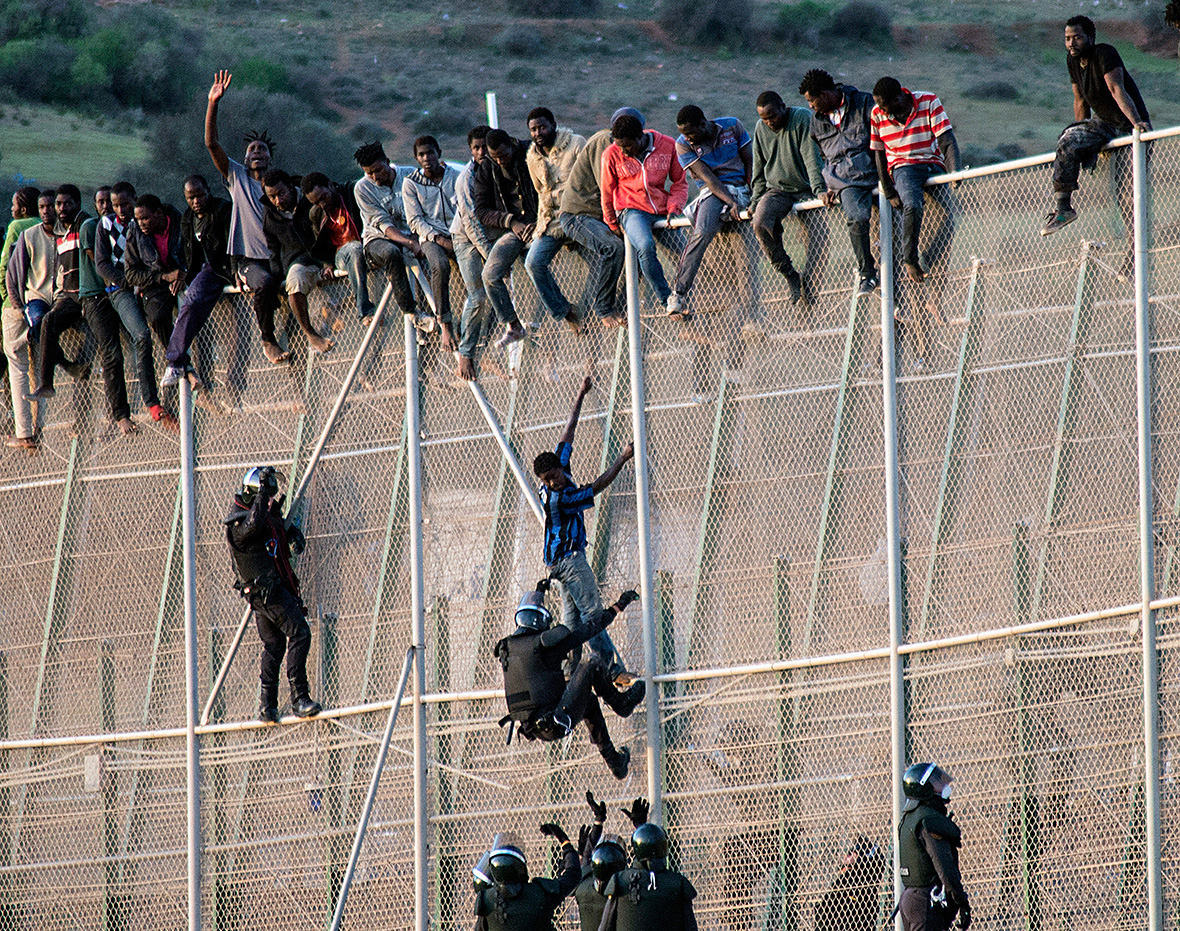 "Sub-Saharan migrants and hopeful refugees attempting to cross the series of fences separating Morocco from the Spanish enclave of Ceuta are dragged down by Spanish officials to be deported back to Moroccan territory." [Getty Images]
"Migrants and hopeful refugees create a makeshift camp in the forest around the Spanish enclave of Ceuta, waiting for a large enough group to storm at the fences in their attempted crossing." [Isabella Alexander]
SELECT BIBLIOGRAPHY
De Genova, Nicholas. "Migrant 'Illegality' and Deportability in Everyday Life." Annual Review of Anthropology 31 (2002): 419–447.
De Haas, Hein. "Morocco's Migration Transition: Trends, Determinants and Future Scenarios." Global Migration Perspectives 28 (2005): 1–38.
Fikes, Kesha. Managing African Portugal: The Citizen-Migrant Distinction. Durham: Duke University Press, 2009.
Freeman, Carla. "Is Local: Global as Feminine: Masculine? Rethinking the Gender of Globalization." Signs 26, no. 4 (2001): 1007–37.
Glick Schiller, Nina, Linda Basch, and Cristina Szanton Blanc. Towards a Transnational Perspective on Migration: Race, Class, Ethnicity, and Nationalism Reconsidered. New York: New York Academy of Sciences, 1992.
Kearney, Michael. "The Local and the Global: The Anthropology of Globalization and Transnationalism." Annual Review of Anthropology. 24 (1995): 547–565.
Massey, Douglas. Worlds in Motion : Understanding International Migration at the End of the Millennium. London: Oxford University Press, 2005.
McDougall, James and Judith Scheele. Saharan Frontiers: Space and Mobility in Northwest Africa. Bloomington: Indiana University Press, 2012.
Pandolfo, Stefania. "'The Burning': Finitude and the Politico-Theological Imagination of Illegal Migration." Anthropological Theory 7 (2007): 329–363.
Turner, Victor. The Ritual Process: Structure and Anti-structure. Chicago: Aldine Publishing, 1969.