The Life and Art of Ceramicist David Ohannessian
with Sato Moughalian
hosted by Chris Gratien and Seçil Yılmaz
Download the podcast
Feed | iTunes | GooglePlay | SoundCloud
The styles of Iznik and Kütahya porcelain, which have become synonymous with excellence in Ottoman-Turkish ceramics, adorned and renovated buildings in a radius extending beyond the Anatolian heartland and including Damascus, Mecca, and Cairo. They bear a striking resemblance to the colorful and ornate tiles on many buildings in the city of Jerusalem today, including the Dome of the Rock. This is due to the fact that the iconic ceramics industry of Jerusalem was founded after the First World War by Armenian ceramists who had gotten their start in the resurgent tile industry of late Ottoman Kütahya. As we learn from our guest in this episode, Sato Moughalian, the transfer of this celebrated ceramics tradition from Kütahya to Jerusalem was largely through the figure of David Ohannessian (1884-1953), a master ceramist who came up in the local ceramic arts of the western Anatolian region and received commissions from the likes of Ottoman governors, revivalist architects, and European notables, including Sir Mark Sykes. He survived the travails of deportation to the Syrian desert during WWI only to recreate his art and business in Mandate Palestine. In the podcast, we trace the material history of Ottoman Armenians through the life and journeys of Ohannessian and reflect on the history of Armenian music through some pieces recorded by Moughalian and her colleagues.
This episode is part of an ongoing series entitled "The Visual Past."
Stream via SoundCloud
PARTICIPANT BIOS
| | |
| --- | --- |
| | New York flutist Sato Moughalian has a multi-faceted career, performing as a chamber musician, solo and orchestral player, and has recorded widely. In 1993, she founded Perspectives Ensemble at Columbia University to culturally contextualize the works of composers and in 2013 was awarded the Catalan government's Ramon Llull Prize for Creative Arts for her work on Xavier Montsalvatge. Additionally, she has been researching the life of her grandfather, David Ohannessian (1884-1953), who founded the Armenian ceramics tradition in Jerusalem in 1919, and is writing his biography for publication by Redwood Press/Stanford University Press. |
| | Chris Gratien holds a Ph.D. from Georgetown University's Department of History. His research focuses on the social and environmental history of the Ottoman Empire and the modern Middle East. He is currently preparing a monograph about the environmental history of the Cilicia region from the 1850s until the 1950s. |
| | Seçil Yılmaz received her PhD degree in History from the Graduate Center, CUNY with her dissertation entitled "Love in the Time of Syphilis: Medicine and Sex in the Ottoman Empire, 1860-1922." She is currently a Mellon postdoctoral fellow at the Society for the Humanities and Near Eastern Studies at Cornell University. |
CREDITS
Episode No. 253
Release Date: 31 July 2016
Recording Location: Manhattan, NY
Editing and production by
Chris Gratien
Images and bibliography courtesy of Sato Moughalian
Music courtesy of Sato Moughalian
TRACK LIST
from Oror / Lullaby by Sato Moughalian & Alyssa Reit
Find it on CD Baby | iTunes
Tamzara
Shushiki (Komitas)
Gurung (Komitas)
Keler Tsoler (Komitas)
Miyan Kez (Grigor Mirzoyan Suni)
Arants Kez Inch Ganim (Sayat-Nova)
from performances of Sato Moughalian, Jacqueline Kerrod, and John Hadfield
Kamancha (Sayat-Nova), arrangement by Alyssa Reit
Makam, arrangement by John Hadfield
IMAGES
Sato Moughalian with pieces attributed to David Ohannessian, March 2016, Photo by Chris Gratien
"Turkish Room," Sledmere House, home of the Sykes family. Tiles by David Ohannessian c1913. Photo by Sato Moughalian, 2007.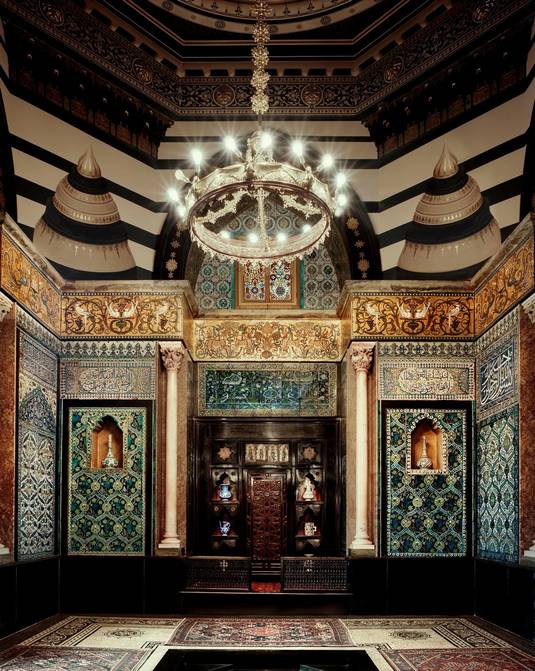 Leighton House, London (site of the "Arab Hall," 15th-16th c. Damascus tiles and additional tiles made by William De Morgan 1877-81, Source: https://www.rbkc.gov.uk/subsites/museums/leightonhousemuseum/aboutthehouse.aspx
David Ohannessian Tile Panel at Jerusalem House of Quality (formerly St. John's Ophthalmic Hospital, Jerusalem). Circa 1925.
Façade of the Dome of the Rock (detail, c. 1934-39), prior to the full 1966 restoration; American Colony Photo Dept., Matson Photo Collection, Library of Congress
Girls decorating ceramics at the Dome of the Rock Tiles workshop (1920). American Colony Photo from the Library of Congress Prints and Photograph Division.
The Dome of the Rock on the Haram al-Sharif, Jerusalem. The current gilded dome was a 1992 gift from King Hussein of Jordan. Photo by Sato Moughalian, July, 2013.
SELECT BIBLIOGRAPHY
courtesy of Sato Moughalian
David Ohannessian (1884-1953)
ALBOYADJIAN, Arshak. Memorial Volume of Armenians in Kutahya (in Armenian). Beirut: Donikian Press, 1961.
ASHBEE, Charles Robert., Ed. Jerusalem, 1918-1920, Being the Records of the Pro-Jerusalem Council during the period of the British Military Administration. London: John Murray, Albemarle Street, W., 1921.
ATASOY, Nurhan, Julian Raby, and Yanni Petsopoulos. Iznik: The Pottery of Ottoman Turkey. London: Alexandria Press in association with Laurence King, 1994.
AULD, S., R. Hillenbrand, & Y.S. Natshah. Ottoman Jerusalem: The living city: 1517 - 1917. London: Altajir World of Islam Trust., 2000.
CARSWELL, John. Iznik Pottery. London: Published for the Trustees of the British Museum by British Museum Press, 1998.
CARSWELL, John, and C. J. F. Dowsett. Kütahya Tiles and Pottery from the Armenian Cathedral of St. James, Jerusalem, 2 vols. Oxford: Clarendon Press, 1972.
ÇİNİ, Rifat. Kütahya in Turkish Tilemaking. Translated by Solmaz Turunc and Aydin Turunc. Istanbul: Uycan Yayinlari A. S., 1991.
DER MATOSSIAN, Bedross. "The Armenians of Palestine 1918–48," Journal of Palestine Studies, Vol. 41 No. 1, Autumn 2011: 24-44
http://digitalcommons.unl.edu/historyfacpub/121
HOFFMAN, Adina. Till We Have Built Jerusalem: Architects of a New City. New York: Farrar, Straus and Giroux, 2016.
KENAAN-KEDAR, Nurith. The Armenian Ceramics of Jerusalem: Three Generations, 1919-2003. Jerusalem: Yad Izhak Ben-Zvi, 2003.
KOUYMJIAN, Dickran. "Armenian Potters of Kutahia," Richard G. Hovannisian, ed., Armenian Communities of Asia Minor. Costa Mesa: Mazda, 2014.
KUPFERSCHMIDT, Uri. The Supreme Muslim Council: Islam under the British Mandate for Palestine. Leiden, The Netherlands: E. J. Brill, 1987.
KÜRKMAN, Garo. Magic of Clay and Fire. Istanbul: Suna and İnan Kıraç Foundation, 2006.
MONK, Daniel Bertrand. An Aesthetic Occupation. Durham and London: Duke University Press, 2002.
MOUGHALIAN, Sato. "David Ohannessian and the Armenian Ceramics of Jerusalem," Patrick Donabédian, Dickran Kouymjian, Claude Mutafian, eds., A la découverte de la Jérusalem des Arméniens. Somogy Éditions d'Art, Paris (forthcoming, 2017).
MOUGHALIAN, Sato. "From Kutahya to Al-Quds: The Birth of the Armenian Ceramics Trade in Jerusalem," Stambouline (December 8, 2015).
http://www.stambouline.com/2015/12/from-kutahya-to-al-quds.html
.
MOUGHALIAN, Sato. "Kütahya'dan kudüs'e KUDÜS'TE ERMENİ SERAMİK TİCARETİNİN DOĞUŞU, Toplumsal Tarih. (January 2016): 50-57
NECİPOĞLU Gülrü. "From International Timurid to Ottoman: A Change of Taste in Sixteenth-Century Ceramic Tiles." Muqarnas. 7 (1990): 136-170.
OLENIK, Yael. The Armenian Pottery of Jerusalem [Exhibition Catalogue, Ceramics Pavilion, Haaretz Museum, Tel Aviv, Summer 1986]. Tel Aviv: Haaretz Museum, 1986.
RICHMOND, Ernest Tatum. The Dome of the Rock in Jerusalem. Oxford: Clarendon Press, 1924.
SYKES, Mark. The Caliphs' Last Heritage; A Short History of the Turkish Empire. London: Macmillan and Co, 1915.
YAVUZ, Yıldırım. "The Restoration Project of the Masjid Al-Aqsa by Mimar Kemalettin (1922-26)," Muqarnas. 13 (1996): 149-64.
Komitas Vartabed – Two Psycho-biographies
KARAKASHIAN, Meliné. Komitas (1869 - 1935): Victim of the Great Crime. 2014.
KUYUMJIAN, Rita Soulahian. Archeology of Madness: Komitas, Portrait of an Armenian Icon. Princeton, N.J.: Gomidas Institute, 2001.
Sayat-Nova
DOWSETT, C. J. F. Sayat'- Nova: An 18th-Century Troubadour: a Biographical and Literary Study. Lovanii: Aedibus Peeters, 1996.
JARAHZADEH, Kamyar. "The Bard of the Caucasus: Armenian, Azeri, and Georgian Legacies of Sayat-Nova," Ajam Media Collective (June 28, 2016).
http://ajammc.com/2016/06/28/bard-of-the-caucasus-sayat-nova/