Islamic Law and Commerce in the Indian Ocean
Episode 383
Download the podcast
Feed | iTunes | GooglePlay | SoundCloud
The history of capitalism and the world economy, while increasingly global in its perspectives, remains a Eurocentric story, and one struggles to find the place of non-European modes of exchange and legal frameworks such as Islamic law within the big picture. In this episode, we talk to Fahad Ahmad Bishara about his book A Sea of Debt: Law and Economic Life in the Western Indian Ocean, 1780-1950 (Cambridge University Press), which argues that concepts and legal frameworks arising from Islamic societies deserve an important place in this narrative. As we discuss, merchants, cultivators, and financiers in the Indian Ocean world were linked in a shared understanding of commerce that employed Islamic legal frameworks. Throughout our conversation, we seek to understand what a picture of the emergence of capitalism in the Western Indian Ocean looks like when local actors are placed at its center.
Contributor Bios
| | |
| --- | --- |
| | Fahad Ahmad Bishara is an assistant professor of history at the University of Virginia. He specializes in the legal and economic history of the Indian Ocean and Islamic world, and is now spends his time thinking about dhows, the sea, and world history. |
| | Chris Gratien is Assistant Professor of History at University of Virginia, where he teaches classes on global environmental history and the Middle East. He is currently preparing a monograph about the environmental history of the Cilicia region of the former Ottoman Empire from the 1850s until the 1950s. |
Bonus Conversation
Listen to this bonus conversation with Fahad Bishara to learn about the Sultanate of Oman and its centrality in the history of the Western Indian Ocean.
Credits
Images
A receipt for the purchase and delivery of dates involving Ratansi Purshottam, a Gujarati merchant and moneylender in Muscat, dated 1882. (Source: Ratansi Purshottam private collection, Matrah, Oman)
A contract promising to deliver 700 lbs of ivory, coupled with a pledge of property, from Musabbah a freed slave, to Kurji Ramdas, a merchant and the customs master's agent, Zanzibar, dated 1866. (Source: Zanzibar National Archives)
Select Bibliography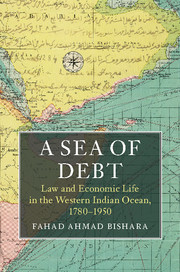 Aslanian, Sebouh. From the Indian Ocean to the Mediterranean: The Global Trade Networks of Armenian Merchants from New Julfa (University of California Press, 2011)
Bishara, Fahad Ahmad. A Sea of Debt: Law and Economic Life in the Western Indian Ocean, 1780-1950 (Cambridge University Press, 2017)
Bose, Sugata. A Hundred Horizons: The Indian Ocean in the Age of Global Empire (Harvard University Press, 2006)
Goswami, Chhaya. The Call of the Sea: Kachchhi Traders in Muscat and Zanzibar, c. 1800-1880 (Orient Blackswan 2011)
Machado, Pedro. Ocean of Trade: South Asian Merchants, Africa, and the Indian Ocean c. 1750-1850 (Cambridge University Press, 2015)
Mathew, Johan. Margins of the Market: Trafficking and Capitalism Across the Arabian Sea (University of California Press, 2016)
McDow, Thomas. Buying Time: Debt and Mobility in the Western Indian Ocean (Ohio University Press, 2018)
Messick, Brinkley. The Calligraphic State: Textual Domination and History in a Muslim Society (University of California Press, 1993)
Raman, Bhavani. Document Raj: Writing and Scribes in Early Colonial South Asia (University of Chicago Press, 2012)
Ray, Rajat Kanta. "Asian Capital in the Age of European Domination: The Rise of the Bazaar, 1800-1914", Modern Asian Studies Vol. 29, No. 3 (1995)
Stephens, Julia. Governing Islam: Law, Empire, and Secularism in South Asia (Cambridge University Press, 2018)