Mapping the Medieval World in Islamic Cartography
with Karen Pinto
hosted by Nir Shafir
This episode is part of an ongoing series entitled History of Science, Ottoman or Otherwise.
Download the series
Podcast Feed | iTunes | Hipcast | Soundcloud
Hundreds of cartographic images of the world and its regions exist scattered throughout collections of medieval and early modern Arabic, Persian, and Turkish manuscripts. The sheer number of these extant maps tells us that from the thirteenth century onward, when these map-manuscripts began to proliferate, visually depicting the world became a major preoccupation of medieval Muslim scholars. However, these cartographers did not strive for mimesis, that is, representation or imitation of the real world. These schematic, geometric, and often symmetrical images of the world are iconographic representations—'carto-ideographs'—of how medieval Muslim cartographic artists and their patrons perceived their world and chose to represent and disseminate this perception. In this podcast, we sit down with
Karen Pinto
to discuss the maps found in the cartographically illustrated
Kitāb al-Masālik wa-al-Mamālik
(
Book of Routes and Realms
) tradition, which is the first known geographic atlas of maps, its influence on Ottoman cartography, and how basic versions of these carto-ideographs were transported back to villages and far-flung areas of the Islamic empire.
STREAMING AUDIO
via Soundcloud
PARTICIPANT BIOS
| | |
| --- | --- |
| | Karen Pinto is Assistant Professor in the Department of History at Boise State University. She specializes in the history of Islamic cartography and its intersections between Ottoman, European, and other world cartographic traditions (see academia.edu) |
| | Nir Shafir is a doctoral candidate at UCLA studying Ottoman intellectual history (see academia.edu) |
CREDITS
Episode No. 220
Release Date: 12 January 2016
Recording Location:
Brown University
Editing by
Onur Engin
(funded by
a paid assistantship at Koç University
under the supervision of
Nina Ergin
)
Music and sound samples:
Bekir Sıdkı - Lerzan ediyor ruhumu cesmindeki efsun
;
BBC Sound Effects Vol.46 - Istanbul
;
Selma Sağbaş - Cok surmedi gecti tarab-i sevk-i baharim
Images courtesy of
Leiden University Library
Map of Mediterranean from an abbreviated copy of al-Iṣṭakhrī's Kitāb al-masālik wa-al-mamālik (Book of Routes and Realms).
Jabal al-Qilāl, a possible symbol for the mythical "Pillars of Hercules that guards the mouth of the Mediterranean in all KMMS maps. This version is decorated with dark red inverted crescents. 589/1193. Mediterranean. Gouache and ink on paper. 34 x 26 cm. Leiden: Bibliotheek der Rijksuniversiteit, MS. Or. 3101, f. 33a
SELECT PUBLICATIONS OF KAREN PINTO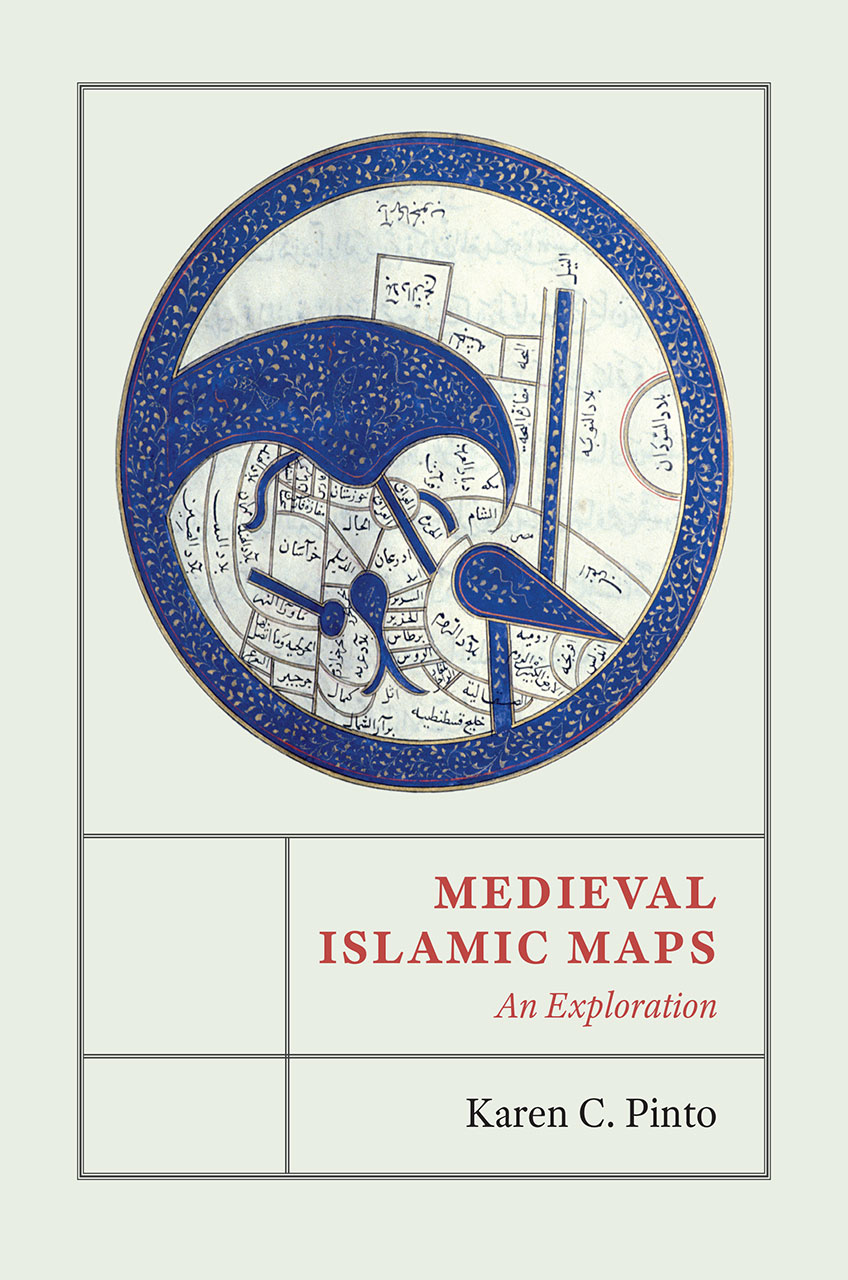 Karen Pinto
Medieval Islamic Maps
University of Chicago Press, 2016
Medieval Islamic Maps: An Exploration
(The University of Chicago Press, 2016)
"Passion and conflict: Medieval Islamic views of the West" in
Mapping Medieval Geographies, ed. Keith Lilley
, (Cambridge University Press, 2014), 201-224.
"Searchin' his eyes, lookin' for traces: Piri Reis' World Map of 1513 & Its Islamic Iconographic Connections (A Reading Through Bağdat 334 and Proust),"
Journal of Ottoman Studies
, 39:1, 2012, 63-94.
"The Maps Are The Message: Mehmet II's Patronage of an 'Ottoman Cluster,'"
Imago Mundi
, 63:2, 2011, 155-179.